Yemi Disu (fondly called YDee) is a Lagos based award-winning photographer that specializes in Child and Family photography.
Her journey into the professional world of photography commenced a little over a decade ago with trainings that fed her curious mind about the art. Shortly afterwards, her career got underway with two remarkable exhibitions – "Battle Scars" – organized by the Goethe Institut in Nigeria alongside 11 other female photographers, collectively referred to as "The Xperspective".
Her works were showcased in the 2011 edition of "Battle Scars" and another set at NIPHEC 2013 during the World photography day celebration.
Other projects include:
The 2014 Nigeria Photography Expo and conference (NIPHEC) on Maternity and newborn
photography (Facilitator).
Photography of A Child Project Season 2 (Participant).
Her pursuit for entrepreneurial excellence was rewarded with an award of scholarship by Goldman Sachs for a certification in Entrepreneurial Management at the Pan-African University, EDC where she bagged a certificate in Entrepreneurial Management.
She created a niche for herself in child photography with keen interest in newborns which led to a paradigm shift in the industry. The insatiable love for this special set kept her focused – a decision that has managed several thousands of sessions involving over a thousand families.
An amazing journey it has been over the years!
In this Interview with Oyinlola Sale, Yemi Disu takes us through her photography journey through her lens.
You are Popularly known for creating a niche in Child Photography, how did Four 23 photography become a household name?
Four23 photography is a household name, because we have grown with 1000 families for over a decade and it has being an amazing experience and great privilege to be allowed to document each family with their kids and we also look forward to many more families in the future.
Is there gender equality in the photography industry, how do people perceive female photographers?
In the photography industry, gender equality is even, because what people see or look out for is your skill before they start looking out for who the photographer is. Being a female photographer just adds a feminine touch to your style of photographing and another advantage is that you get to have the opportunity to document some moment that a male photographer will be asked to step out.
Photography business can be time consuming, so how do you strike a balance ?
Photography is time consuming because your work starts from the moment a client puts a call to book a session. Planning for the session starts where u try to understand the client's brief, then you advise client on what to wear, hair, makeup style and even the theme to go with the session. if they have not made up their mind on what to wear for the session then we start planning for the shot and during the shoot the right colour, texture, poses to suit the clients brief also pampering the client to get them relaxed in order to get the best from them, that's one accept of the job, the other parts of the job includes editing, printing, posting on all social media platforms, marketing etc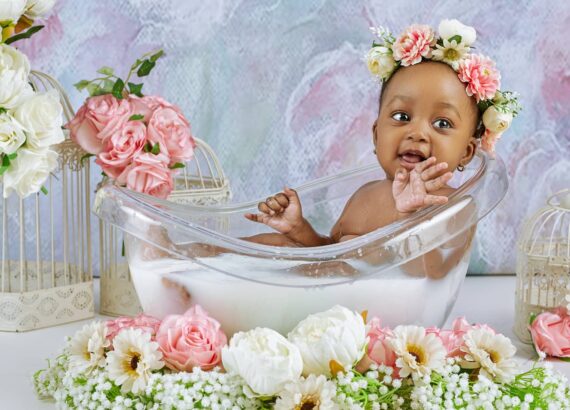 Over the years, what lessons have you learnt in the Photography Industry?
Lessons I have learnt in the photography industry is that learning is constant, you have to keep up with the new skills, new technology and equipment's as these involves over time and to create this best images you need to embrace technology.
Secondly, patience is another thing I have learnt mostly because I work with kids, having an open mind and be ready to learn at every point in time. Finally customer relationships is key in this business as referrals are a major part of our business.
Photography is capital intensive, so how did you manage to finance Four23 photography in it's early days?
Four23 in the early days started very small and gradually we saved to buy new equipment's and grew. We took it one step at a time.
What were some of the challenges you have faced so far in running Four 23 photography Studio?
Some of the challenges faced in running Four 23 photography studio, includes getting the right staff to work with, security, constant update to the software's we use in our industry and finally capital intensive as most of the recent equipment come at high cost considering the exchange rate issues.
The photography industry is churning out a lot of creative photographers, what is your view about this growth?
The photography industry is projected to evolve rapidly in the next few years, creating new opportunities to market players. With low barriers to entry, it is now far easier for newcomers to enter the market than it was 5 -10 years ago.
Secondly, growth is a constant factor like I mentioned earlier, and it is important to have new and young minds in the industry as this help to challenge existing players in this sector to remain updated with latest and new trends, because if this does not happen you become obsolete with your ideas. So, this we always welcome and encourage growth and new commers.
The opportunities in the photography industry is enormous and here in Nigeria, we are barely scratching the surface, how can we maximize the potentials of this industry?
This can be done by having great photography intuition to train and impact knowledge in us and train people in the various aspect of the industry which includes, Editing, Printing, photog including commercial photography, portraiture, special events photography, and industrial photography.
Technology Changes/Soft Copies/Online Image Libraries  One of the photography business opportunities is the fact that the camera technology is fascinating and rapidly changing (for the better) almost daily with a variety of new updated features along with lower priced hardware. There are on-line services (internet-based storage, editing software, etc.), less demand for hard copy prints, more demand for online photos, and companies are now beginning to purchase images from online libraries vs. hiring a professional photographer for their marketing photos. We're also seeing the large volume of smartphones and tablets create more demand for online photos than ever before — this trend will more than likely increase as consumers continue to purchase these devices.