Olubimi Alero Abohweyere was educated in Nigeria and graduated with a bachelor's degree in Linguistics from the prestigious University of Ibadan in the year 2000.
In 2003, she joined the Pastoral Unit of The Catholic Secretariat of Nigeria where she was involved in the planning and packaging of the bi- annual Nationwide Catholic Christian pilgrimages, to holy sites across Europe. This involved researching holy sites, liasing with relevant embassies, local and international Travel and Tour agents, screening applicants documents and general logistics.
In 2006 she left to chart a different course in the telecommunications industry. She joined MTN as an online Customer Relationship Agent.
By 2016, when she left, she was a Strategic Account Partner, managing a portfolio of MTN's Strategic Accounts covering the Corporate Western region (Lagos, Ibadan and Ogun States).
She's a 2.1 graduate of Linguistics from the prestigious university of Ibadan and holds numerous other certificates as shown below:
Customer Service Professional Certificate, from Customer 1st – a UK Customer Service Academy and accredited by the UK Awarding Body ABP (Association of Business Practitioners)
Strategic Account and Customer Relationship Management.
Relationship Management and Critical Negotiation Skills for A Digital World.
Professional Certificate in Strategic Planning and Corporate Management.
Certificate in Healthy Living.
Certificate in Fruit Artistry.
Level 2 Award in Food Safety (London Professional Training Centre)
Olubimi is now the CEO of Prosit Fruits and Wellness is an indigenous Nigerian Wellness Brand, located in Lagos , with a focus on Promoting Natural Wellness, via healthy eating and wellness education.
In this Interview with Oyinlola Sale, she tells us how Prosit Fruits has built a sustainable brand in Nigeria's thriving Food Industry.
You are a kidney warrior, tell us about the story behind your breakthrough, that led to the creation of Prosit Fruits?
In 2016, I got diagnosed with kidney impairment and was placed on medication but they were too strong and I wasn't tolerating them well at all. At a point I stopped taking the medication and started doing my own research on how to manage kidney disease using natural means.
I adopted a healthy lifestyle, eliminated certain items from my diet, while incorporating more plant based, high quality but low quantity protein diet amongst other things. After just a few months, I noticed all the physical symptoms had become better – no swellings. Then I did a follow up test, which showed improvements in the markers for kidney impairment.
This breakthrough, my love for natural wellness – which was always there and my love for art, propelled me into birthing the natural wellness and Fruit Styling brand we know today as Prosit Fruits.
Food business in Nigeria has become innovative, it is more about the creativity infused with good taste. How unique is prosit fruits?
Prosit Fruits is a truly unique brand because we infuse wellness and hygiene, which are core qualities of our brand with aesthetics, which is visually appealing as well as great taste. At Prosit Fruits, we believe that healthy eating can be fun, happy and tasty.This, our customers over the years can attest to.
While promoting all the healthy eating aspect of my business, I would primarily want to highlight the Fruit Styling part at events which supports healthy eating, even while people are partying.. Fruit salads, heathy desserts like parfait, fruit kebabs, melon pizza, fresh juice cocktails etc.
We cater at all social and corporate events (birthdays, weddings, baby showers, bridal showers, funeral receptions, business meetings, award events, conventions etc) big and small events.
In this economy where prices of goods are drastically increasing by the day, how do you manage to draw the line to know how to put a price on your catering services?
We strive to keep our prices affordable without compromising on the quality of our products, which we have come to be known for.
Our promise to deliver quality and enjoyable products which promotes the natural wellness of our customers is very important to us as it is to them.
We would love right here and now to appreciate our customers for staying with us because they truly value quality and their wellness highly.
Prosit Fruits is known for beautiful fruit styling, healthy organic fruit/vegetable juices, salad and wellness gifts, would you say it's capital intensive?
Sourcing high end equipment and display items to produce high quality products are somewhat expensive but they are worthy investments if your focus is 100% wellness, taste and visual appeal. Having said that, there are a wide spectrum of equipment ranging in price, which anyone looking to start this business with lower cash access can start with and scale up as they go.
It's also important to get the relevant certifications as well as register with the appropriate government bodies.
The Food Industry sees a daily increase in the number of players. In what ways does Prosit Fruits stand out?
At Prosit Fruits, we are big on health, wellness, quality and aesthetics. Our focus on providing healthy tasty treats, which are hygienically prepared and beautifully presented for memorable experiences everytime stands us apart. We also partner with our customers to provide taylor fit presentations as they desire.
Was there ever a time you stumbled on a road block that made you feel like giving up, How did you overcome that situation?
Oh yes! As a people we do not value our health as much as we should, forgetting that health is the true wealth. A great health is the bedrock for a thriving and successful life. So initially it was very difficult getting people to incorporate fruit styling and healthy treats into their event menu/plan. They saw it, liked it but it just wasn't normal for them.. but thank God, with time, more enlightenment and publicity on our part, it's getting better and we find more and more people, reaching out from social media to make inquiries and patronage.
The Food Industry is capital intensive. How did you manage to finance this business in it's early days?
I started my business with my personal finances.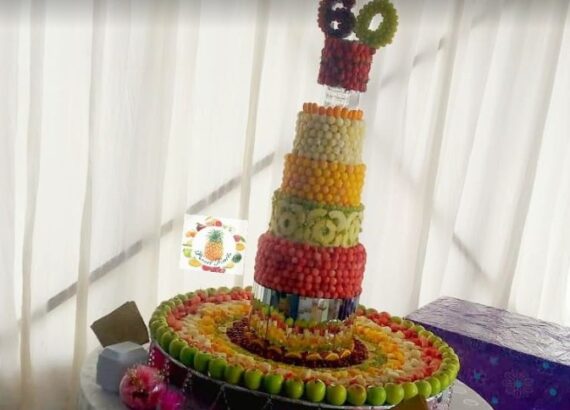 How has Prosit Fruits managed to build a sustainable brand in the Food Industry?
We have been able to build a sustainable brand by consistently providing quality product delivery.
Understanding the value of starting small while having a bigger brand in focus.
The value of learning, unlearning and relearning. Paying attention to times and seasons.
The understanding that our customers are key to the survival of our business.
Relationship and networking, which we have leveraged on time and time again, in the course of running our business. We have also been supportive of fellow entrepreneurs.
Valuing the input of team members, as no one person has monopoly of knowledge.
Also, the importance of being socially Responsible as a brand via our youth and women trainings, mentorship and empowerment programs.
What impact do you see Prosit Fruits making in the Food Industry in the next 5 years?
In the next 5 years, we hope to have disrupted the food industry so much so that healthy eating becomes a norm everywhere – at corporate and social events, homes, schools and offices.
We are what we eat..when we eat right, we are able to regain and retain wellness and as a result, live life to our full potential- academically, financially, politically, socially, career and business wise.