Funmi Ilori is the founder of iRead Mobile Library; the first innovative 'books on wheels' for children in Nigeria. She is also the Director of training at iRise Model School, a network of affordable nursery and primary schools using a technology based learning model.
She holds a Masters degree in Educational Psychology from the University of Lagos, Nigeria and BSC in Urban and Regional Planning which drives her passion for the environment and climate change issues.
She is an author of children's literatures, a prolific storyteller and a serial social entrepreneur.
Funmi completed a Business and Entrepreneurship course at Clark Atlanta University in 2015 as a part of the Mandela Washington Fellowship, an initiative of President Barrack Obama for Young African Leaders. She is an alumni of Daystar Leadership Academy.
Her organization, iRead Mobile Library is an educational consulting firm that specializes in human capacity building which incorporates innovation and a blended learning approach in proffering tailor made solutions to educational challenges.
Over the years, iRead Mobile Library has been able to build a strong reputation with academic institutions, professional teachers, school administrators, parents, as well as children across various platforms, and has had the privilege of a first class insight into the current education situation within the country.
Funmi has an ongoing partnership with the World's Largest Lesson to design and distribute books on Sustainable Development Goals as well as train children on the importance of the goals and how they can make a difference in the world through their immediate communities.
Funmi has reached over 200 low-income private school in the last 1 year in collaboration with United Nations Information Centre, NIPEN, Small World Carbon, SMEFUNDS, GoSoalar Africa, Teensed foundation and Beach Samaritans. She uses her mobile library vans to share and train on digital literacy, adult literacy and entrepreneurship.
Funmi's innovation has drawn the attention of several international media Organizations, Like Aljazeera.
In this interview with Oyinlola Sale, Funmi Ilori reveals to us the secret behind her Innovation in the Educational Sector.
In what way have you introduced innovation into the educational system of Nigeria?
I read Mobile Library started in 2013, after i won a grant from the federal government of Nigeria, introducing the mobile library was a huge innovative work for me because i saw the problem of lack of Libraries within communities and I also saw that parents had become really busy and visiting libraries was not going to be topmost of their priorities, so creating a library that gets to the doorsteps of children was the way to go and that was how we created the mobile library were we visit schools and communities and children were able to pick this books, they use it for their after school work , they can read for recreational purposes and they can learn new words and also begin to write creatively such that they also create new books and with all of this innovation in the Educational sector has been transformed.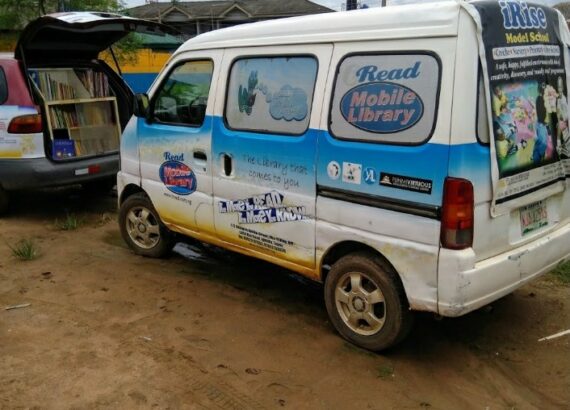 How was it like when you started this platform?
The mobile library started in 2003, when I got an insight from a leadership training I attended, the Daystar Leadership Academy, where we were told to write out a big dream that was even unachievable and then I wrote to build thr largest library in Africa after the training we were told to start with what we have and so i put my books and my dvds in a basket and i started going from door to door, I was making the money from the services, providing resources to adults, however it lasted for one year and i was able to save some money and even invest it for my child. In 2013, i won the federal government grant and then we bought the vehicles and stucked up the mobile library, they had in built shelves and books and lightings and sitting areas within the bus facility, so starting up was not very easy. It was new, people were not used to it, so it was a bit challenging. So they started going into communities. They gain the trust of parents and schools and they have successfully run the mobile library for 7 years.
What was the drive behind you creating the mobile library?
The drive for creating the mobile library came as a result of the gaps and the in adequacy of libraries. We know how important libraries are, libraries give access that can help boost what we are learning in schools and out in schools. But now we see that must of the libraries are under locks there is no budget for the library and people don't have access. This means children are affected and if we don't give them the access to great books, how do we make them the great leaders of tomorrow.
So as a busy woman with a lot of responsibilities, How do you start your day?
As a busy woman, I start my day with plans, I have my journal where i record what i want my day to be like,
so my wake up time is 3:30 am or 4am. Sometimes i read hard copy books or listen to podcast of some of my favourite motivational speakers. Then I say my prayers and align her activities for the day to achieve her goal.
Is the Government supporting Innovation in the educational system?
At various levels the Government is trying their best in terms of adapting innovation in the Educational sector. In Lagos State where I am domiciled, Covid 19 helped them to look away from regular school time and to begin to leverage on technology and that's the way to go.
What Impact has the mobile library made in the educational sector?
I read Library has made positive impact in the educational sector, asides working with schools, it has also created virtual access where children can read unlimited number of books , watch small videos and even listen to audio books.
How has Government policies influenced your business?
The Government Policies have not directly affected the business because there has been a bit of leverage for the Educational sector
Recently we just found out that people that earn less than 30,000 naira will not need to pay Government tax and this is good, because we have a lot of people in that category earning that little amount in the business. So that looks like a favourable one.
How can the Government encourage female entrepreneurs in Nigeria?
The Government has a big role to play in ensuring that women in business are encouraged and are given a soft landing for their enterprise, I am a beneficiary of the You Win women. During the last regime, Dr Ngozi Okonjo Iweala was the Minister of Finance at the time and when the You Win program started, they dedicated one year to host women. We had 66,000 apply, 6,000 were shortlisted, 1,200 finalist were selected and that was how I became a beneficiary, without such a program, I am not sure my business would have seen the daylight. So the Government need to continue in that light in terms of supporting women led businesses be deliberate about it. I have been running for 7 years now not because the men won't do it but because the women will even stay with it and that is why the government needs to be very intentional about empowering women.
What are some of the challenges you have faced so far and how have you managed to overcome them?
One of the major challenges we have faced is publicity, now when i say publicity, i mean we are doing so much good but we cannot do more and thats because we have limited resources. So we started up by having two mobile libraries and now we have four. We can only cater for 3,000 children, but what if we had more.we could reach 30,000 Children and even more.
What is your philosophy of business?
At i read mobile library our business philosophy is to embrace innovation. Infact that is what our ' I' stands for innovation. They are many problems we face but we must create the solutions.
Tell us about a highly difficult period, where you though of giving up and how you managed to overcome it?
There has been no time, where i thought of giving up, however i have had some of my mentors encourage me to move away from library service because providing library service in the minds of the public should be a free service, however we have to be sustainable so we had to go back to the drawing board, what is it we can do to make sure our subcribers are paying for this service and we are sustainable.
A young female entrepreneur out there is thinking of following your footsteps what advice will you tell her?
To all of the young ladies starting up their businesses one of the things i will share with you is to keep at it and if you are yet to start, I encourage you to start with what you have. Because everybody has something. Get on board , explore, fulfill that dream. Time waits for no man.