Lawrence Grace Foundation held a Special Charity Christmas Party for 300 Widows at Luxury Party Event Centre on Sunday 18th of December, 2022.
Oluyinka Adewoye, Convener of Lawrence Grace Foundation said the foundation has been on for more than three years and that they have been having events for widows, school children at different levels but this time around they know how things are in the country.
Mrs Adewoye says they have been planning to celebrate Christmas with the widows because Christmas is a joyful season.
Kemisola Adeyemi, a partner with Lawrence Grace Foundation says so far so good God has been faithful and the impact of the project has been such a great blessing to me personally, I have always been this kind of person that want to be part of peoples life and I'm also particular about mankind and giving back to the society and being part of the project in service has been a great thing to be honest.
Vivian Adebamowo is also a partner of the Foundation and she tells us that It is one of the fastest growing foundations she has worked with for the past two years and indeed they have been putting their mouth where their money is.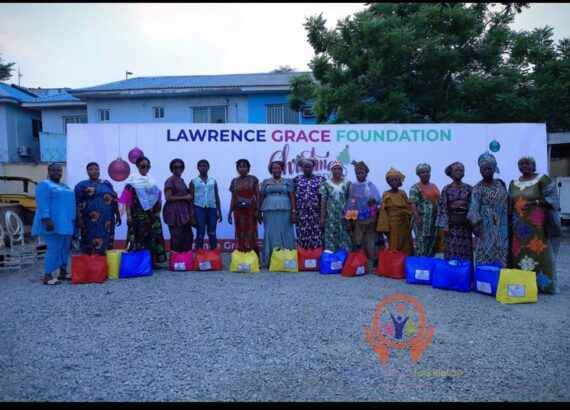 Bisi Owonuwo is one of the widows and she explained how Lawrence Grace Foundation has impacted her life. Bisi said that this is her first time here but she has been hearing about the foundation so many years ago.
Mrs. Babalola Louis is a widow and she explains how she got to know about Lawrence Grace Foundation. Loius said that
they came to her CDA about two months and did medical check-ups for them, so that was how she got to know about them.