Ebun Feludu- runs JAM The Coconut Food Company- an integrated coconut processing company. They produce a range of premium edible and topical products from the world's most famous super food  the coconut.
Our premium coconut products range from Coconut Oil, Activated Coconut Charcoal, breakfast cereals- Coconut Flakes and Granola, Coconut Cinnamon Balls, luxurious body oils- Coconut Elixir, and oil balms all made from our beloved coconut.
In 2008, Ebun made an epic Trans-Saharan road trip from Lagos-London, through the West coast and the Sahara desert. She has remained committed to channeling enterprise to build the Africa of her dreams, starting with Nigeria.
In 2017 she was made Nigeria rep for WEF- Women Economic Forum.
In 2019, she led the largest delegation of women to the annual Women Economic Forum conference in New Delhi. In the same year she was made the inaugural Nigerian Chairperson ALL Ladies League Nigeria- the global network of women under the auspices of the Women Economic Forum.
In June 2020, Ebun Feludu was announced as President of the Nigeria-India Bilateral Business Council- creating a bridge connecting women in business in Nigeria and India.
In this Interview with Oyinlola Sale, Ebun Feludu,  CEO of JAM The Coconut Food, tells us what it took to establish her company and how she has empowered several women.
JAM The Coconut Food Company was established in 2016 and has been the leading coconut brand in Nigeria, with the widest number of certified products and the widest national reach.
Now tell us the story behind creating JAM The Coconut Food Company?
JAM The Coconut Food Company is an integrated coconut processing company. We process coconuts- the world's number 1 super food into premium snacks and personal care products for the conscious African
To do this, we train and employ women from our community who make up 80% of our workforce.
There are two timelines to our origin story. It started with me seeking a plant based milk alternative to diary. I have been lactose intolerant my whole life, but as one gets older, that tolerance level reduces to below zero. So in December 2015 I had a violent reaction to lactose and at that point I knew I had to switch. So as a Lagosian, with an abundance of coconuts around me, the first option that came to mind was coconut milk. I went online to learn how to make it and it turned out to be incredibly delicious. Then we would sample on family and friends and got the same reaction. It turned out there were many others like me who are lactose intolerant and wanted plant based milk alternatives to diary.
Around the same time, my children also tried out a family coconut fruit loaf and sold out at kids fairs and  neighborhood pop ups. These two events were the proof of concept that led to the start of our journey into coconut processing.
I remember our first partners was Neo Café. We approached them about supplying coconut milk to their lactose intolerant clients and they said yes. We started by supplying coconut milk to all their branches.
How have you managed to keep the business on track in an unstable economy?
We have had our ups and downs but we keep our focus on what the customer is saying. Also, I was resolute to build a legacy as opposed to a lifestyle business. This meant that whenever the obstacles came, (and trust me we have had many road blocks) the bigger vision kept me going. One of the road blocks we had was during lockdown when we lost a truck load of supply of our raw materials to security officials in Badagry. There was nothing we could do because many marketers and processors were affected. The Lagos State Government through the Ministry of Agric, The Lagos State Commissioner for Agriculture- Honourable Ms Bisola Olusanya Commissioner and the GM Lagos State Coconut Development Authority- Prince Dapo Olakulehin had to call an emergency stakeholders meeting to address the issues and prevent such from happening again. The experience was an unfortunate hard knock that we learnt from and developed new strategy for the future.
How has your Organization empowered women over the years?
I often say to our women, we are not just coconut processors, we are ambassadors of the Nigeria of our dreams.
80% of our staff are women who are trained by and employed by us. Our factories are located in Okun Ajah and Badagry and many of the women in these communities are sort of left behind whilst their husbands go out of the community in search of work. In our current economy, a double income household is desperately critical to meeting the basic needs of the household. Many of our women are now able to contribute up to 50% of household income.
In 2016, you founded Igrow Agri Invest- an all women board who invest in female farmers and agropreneurs, tell us more about this?
My career had been in media, writing stories of women for women's magazines like True Love West Africa, TW Magazine. In addition, I grew up in Ibadan. My paternal grandfather was a famous cocoa merchant, my mother studied Agriculture and my sister Agric Extension. With my background interviewing women, and my exposure to agriculture, I found that many women in business had a hard time getting capital for their business whether as loans or equity. In 2014 I began to explore investments in Agriculture but I knew I didn't want to be a lone ranger. So I sought out a few other women of like minds and presented to them my idea of an all women board investing in women in agric. They bought into it and we started out first investment in the exportation of vegetables to the UK and then into a woman led agro processing company that yielded great result for the investment company.
How can the Government encourage manufacturers like you to produce more Made in Nigeria products?
Nigeria desperately needs to export non-oil products. Thankfully the Nigeria Export Promotion Council is set up to drive just that by supporting manufacturers in their efforts towards export. We were one of the beneficiaries of the EEFP Grant which is aimed at export and we are deeply grateful to NEPC for this support. In addition to this, NEPC and SMEDAN have supported us to attend many international Trade Shows in Ethiopia, China, Ghana and Botswana which gave us consumer insight in those countries for our export strategy.
However to answer your question there are 3 key areas that require urgent attention so that Made In Nigeria goods have good traction locally and internationally:
Design- Made in Nigeria products compete against well designed international brands on supermarket shelves. Many Nigerian entrepreneurs have great products but they are losing market share because their packaging is not appealing. Private sector and or government could help by setting up Design Labs to help manufacturers across the country develop strong branding. Consumption or adoption of a product first starts with what the eyes see in the packaging, before the product is ever sampled. Great packaging helps with that initial buy in.
Power- If the government is serious about earning forex via export of Made in Nigeria products, then we need to invest urgently in 24hour powered industrial hubs in every local government. This will immediately create jobs and support for manufacturers.
Distribution- Once our products are made- how do we tap into the 200 Million Nigeria market? A good road and rail network to facilitate the free flow of goods across the country. As I type this interview, I am sitting on the train heading to Ibadan from Lagos to attend a meeting. Imagine if we had functional cargo trains that criss-cross the country so goods made in the South can go up North and vice versa. The opportunities are limitless.
You shared the knowledge gained from India with the Lagos State Coconut Development Authority where you served on the planning committee on the first Lagos Coconut Festival, tell us about the outcome?
I shared from the platform given to me by the Lagos Coconut Festival. I have also done so more recently at the just concluded Agunkefest Annual Coconut Festival in Badagry. I was a speaker at the event and I was honoured with the Award of Coconut Ambassador as well. The theme at the Agunkefest this year was Coconut Sufficiency for Economic Diversification and Tourism in Lagos State. The event was attended by stakeholders in the value chain from across Nigeria. Many of these stakeholders are new entrants into the industry and I shared insights that would help them avoid the costly mistakes that I made in the start of this journey.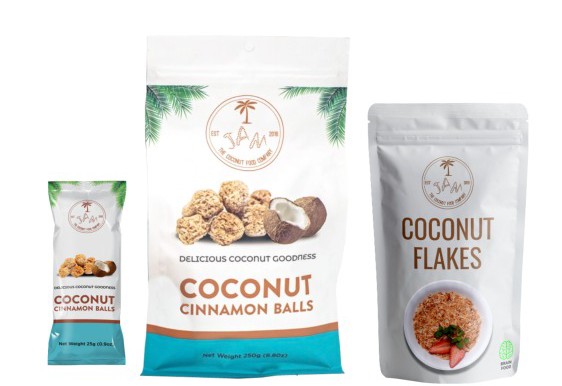 What are the challenges you have faced so far in running this business?
Challenges we have faced in the past is access to raw material because of the huge demand for coconuts and its derivatives. To mitigate this, we have signed off-taker agreements with farmers and begun work towards our own coconut plantations towards our backward integration strategy. Other challenges would be hiring skilled hands, power and distribution. However having said that, our job as entrepreneurs is to solve problems not celebrate them. I firmly believe that we have evolved as a Nigerian race to thrive even in the face of grueling challenges, much like the West evolved to create solutions to their extreme weather conditions. My approach is, there is no challenge we cannot overcome and thankfully, I have been able to infect my team with the same spirit.
Starting up a business is never easy, so tell us how did you manage to finance this business in it's early days?
Like most startups, personal funds, savings, family and friends and then when we were ready for it, loans. We have also been blessed to have been awarded several grants from LSETF, NEPC, Unusual Entrepreneurs and more recently the Inaugural ECOWAS SME Pitch. I believe that a good product or service with a proven track record will always attract the capital it needs, the challenge will then become, is this funder the right fit for me at this time?
The Industry you are in is becoming quite competitive, how have you managed to carve a niche for yourself?
We are laser focused on just one raw material- the coconut, and we are committed to processing a wide range of excellent products from this one nut. Because our attention is not divided, we have been able to commit to excellence. We started by creating excellent products from Nigeria with a global market in view. When we pitched to Shoprite through the AWP Platform, we were chosen and now we supply all Shoprite outlets across Nigeria. Also we pitched for the Changing Narratives Fellowship which trains and aids manufacturers like myself get our product into Walmart in the US- We were one of 8 manufacturers in Nigeria who were accepted into that highly sought after fellowship.
Also recently, we were chosen to represent Nigeria at the Inaugural ECOWAS SME Summit and Pitch Competition and we again emerged as one of the winners.
I believe it is our commitment to excellence in product, packaging and our people that makes us stand out in the industry. We are excited about all the amazing new products that we will be launching in 2022.
To read more about JAM The Coconut Food Company visit www.jamcoconutfoods.com
Instagram: www.instagram.com/jamcoconutfoods.